I do.  Let me tell you why.
When I have a big project looming on the horizon, I often get overwhelmed.  At first I pretend that the project doesn't exist. Then I pretend that the deadline doesn't exist. Then when the deadline stares me in the face, I panic.  The panic drives me to avoidance. The avoidance results in further delay which results in a further compression of time which results in hysteria which finally results in action.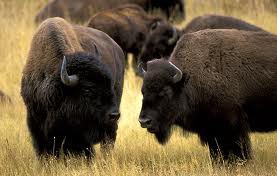 None of this would be necessary if I were a buffalo.
I'm not terribly good at confrontation.  (A rather horrifying confession to make as one trained as a trial lawyer.) If I have to confront a client on a difficult issue, usually involving money, my anxiety level spikes. I get preoccupied with other matters which I pretend have greater priority to justify to myself and to others that I am very busy and important and rather above the messy business of confrontation.  I do this with children and bankers and car mechanics and just about anyone else with whom I should be clear and direct, hoping that the need for communication or redress will somehow evaporate with the passage of time or the onset of dementia.
If I were a buffalo, this would not be the case.
Sometimes when I think about sitting down to write or to create, I find myself fighting the great demon: Resistance. I decide that it is time to clean the counters, alphabetize the recyclables, clip coupons or floss my teeth.  Certainly the blog will require research: yes research, that's the ticket; not writing; not just yet. And the inbox: now's the time to respond to at least a dozen of the 1300 unread messages. And, before I write, I will certainly need to update my status on Facebook:  "Just about to write."
This would be ridiculous if I were a buffalo.
There are times when I am afraid.  Like before a speech or a big presentation or a trial or a major expedition or a new project or a medical procedure or a big investment; or like when the market tanks or business is off or the associate quits; or like when what I hoped wouldn't happen did.  Then I shut down, hide out, bury myself under the covers. I turn inward, go incommunicado. And engage that other great demon: Avoidance.
This would not be something I would do were I a buffalo.
That's because buffaloes know a secret: overwhelm and avoidance and resistance and fear aren't real. They're illusions.
Of course they seem pretty damn real.  And they certainly feel pretty damn real. But they have no substance to them.  They can't be touched or held. They have no weight or physical substance. And when we face into them, they dissolve. When we stare them down, they disappear.
When we move forward in the face of Overwhelm, when we confront in the face of Avoidance, when we create in the face of Resistance, when we act in the face of Fear, we discover what was true from the very beginning: that we are powerful beyond our understanding, and that the Universe has been waiting for us all along to support us with passion and purpose and possibility.
Now buffaloes may not really know anything about all of this existential stuff; they may think overwhelm and resistance and avoidance are real.  Hell, they may even be scared shitless from time to time.
But – and here's the key – buffaloes don't act that way.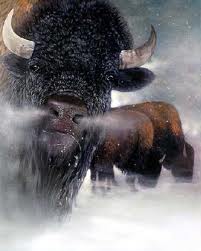 Wilma Mankiller, the first female principal chief of the Cherokee nation, once described the difference between cows and buffaloes: cows run away from an oncoming storm; the buffalo, on the other hand, turns and charges directly into the storm. And gets through it quicker!
"Whenever I'm confronted with a tough challenge, I do not prolong the torment. I become the buffalo," she said.
I want to be a buffalo.  What about you?