Are you mission driven?
Or do you muddle?
The majority of folks drag themselves out the door, day after day, to their jobs, feeling empty, disappointed and depleted. Nearly 80% unhappy in their work.
Of course, in this economy, so many are grateful just to have some work.
But most folks want for something more as well.
Ultimately, as Maslow suggests, we want to feel fulfilled.
We look for purpose. We search for meaning. We want to matter.
At the end of our lives, none of us will wish we had spent more time in the office, billed more time, or sold more product. What will matter will be the experiences we have had, the lives we have touched, and the love we have shared.
But here's the scoop. We get to choose how we will be.
Consider the old parable: A man went by a construction site and encountered a bricklayer working.  The man asked him what he was doing.  The bricklayer replied, "I'm laying bricks."  The man walked a few feet further and came upon a second bricklayer. He asked him the same question.  The bricklayer answered, "I'm making a wall."  He then walked by another bricklayer and once again asked the same question.  This worker replied, "I'm building a cathedral."
The vision of our lives, our mission, is ours alone to form.
Abraham Lincoln had a vision of a nation freed of slavery, oppression and division.
Martin Luther King had a dream of equality and justice for all.
Nelson Mandela had a goal of unity and peace for the people of South Africa.
Ronald Regan had a vision of a world without a wall.
Mother Teresa labored to serve the poor and save the downtrodden.
The Dalai Lama's purpose is to bring peace, gratitude and compassion to the world.
But "greatness" is not the precursor for vision. All of us have the capacity to have great vision. Saints aren't born that way. Leaders learn to lead. And the visionaries, they're the ones who, bit by bit, learn to see beyond themselves; who see the world not just as it is, but as how it could become. They have a grander vision of their lives, a bigger purpose. They're the ones who think not just of their children, but of their children's children for generations to come.
Folks who are mission driven bolt up out of bed every day, on fire, excited about what they are about to do. They're focused not on the hours of their day, but on their impact in the world.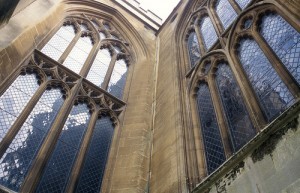 Folks who are mission driven look beyond themselves. They have a servants heart. They add value. They give.
And even in the minutia of their days, they build cathedrals.
And you?