We're fairly deep into our ultra-training season. Our Saturday long runs are now 20 miles or more.
There's a hill about a quarter mile from our house, at the start of our usual route. It goes on for about a 1000 yards or more, at a pretty steady grade.
I've run it hundreds of times.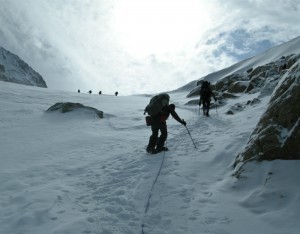 It's always hard.
It never gets easier.
Sure, measured over years, my heart rate is probably lower, my breathing easier than when I first started running it. I do recover faster.
But the hill is always hard. And every time I start out, I think about that damn hill. And how hard it's going to be. And how unfair it is that it never gets any easier.
(Yes, unfair, dammit. It's unfair.)
And therein lies the problem: I think that the hill should be different than it is.
The hill is just the hill.
Suffering happens when we think that things should be other than they are.
There's always resistance when we start to write.
A new job or school always takes us out of our comfort zone.
A new diet always feels unfamiliar
The hardest part about going to the gym is always getting in the car to go.
A new project always requires more of our time and attention.
Starting out on the trail with a heavy pack is always uncomfortable.
These things just are. Kinda like laws of physics.
Now, don't get me wrong. I like to think of myself as an agent of change. I like to make shit happen. I really do. But we waste a whole lot of time and energy when we fight against the things that are.
Steven Pressfield in his wonderful book The War of Art reminds us that, regardless of endeavor, resistance will always be with us; that if we entertain it even for a moment, all will be lost; and that the only remedy when we face a hill is to climb it. When we succumb to resistance, when we allow it as an excuse in our lives, we succumb to fear, and settle for mediocrity.
So just settle down and do the work; get out the door and start to run; go to the gym and forget the drama; show up at the keyboard and start to type.
The real Secret is that there is no secret.
Ya just gotta do it. Ya just gotta start. Ya just gotta push through.
The hill will always be the hill.