I realized that they could be a problem. Or not. The weeds.
I could decide.
They could be an annoyance, a challenge to overcome, an obstacle to my enjoyment. Or they could just be weeds.
I could choose.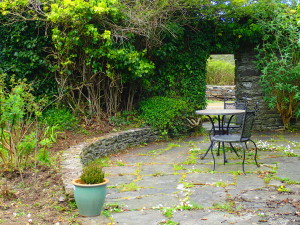 You see, I have this beautiful, lush garden in Ireland. I weeded it just before I went to the States three weeks ago on business. When I came back, it was full of weeds.
I found myself railing against the weeds. Lashing out at them. Telling myself the "story" that there shouldn't be weeds.
But, of course there were weeds. That's what weeds do. They grow in your garden.
And we… we tell ourselves stories all the time… about the way things "should" be… or "shouldn't" be. The stories are what get us into trouble; the stories are what suck our energy reserves; the stories are what keep us from doing what needs to be done.
I have a coaching client who is building a business. On occasion, she gets frustrated because something doesn't work, or she comes up against an obstacle.
She tells herself a story. About how there shouldn't be obstacles, obstacles to success.
It's the story that frustrates and preoccupies her really; not the obstacles. There will always be obstacles. And the obstacles can be problems or challenges or annoyances… or they can be opportunities.
Then again, maybe they are just obstacles… or weeds. Nothing more. Nothing less.
We get to choose.