What do the Seattle Seahawk players and the managers at Aetna Health Insurance have in common with the Dalai Lama?
They meditate.
Really.
They sit on cushions, close their eyes and go "Om."
Why, you might ask, would burly football players and corporate execs bother?
Because they've discovered the power of mindfulness.
This is not some new fad. The ideas of meditation and mindfulness have been around since before the time of Siddhārtha Gautama, Shakyamuni a/k/a the Buddha, more than 500 years before the birth of Christ. What is new is finally a mainstream recognition that these ancient principles have a powerful impact on the way we live every day of our lives… and the way we conduct our businesses.
Culturally, we're told that in order to get ahead, we need to work longer and harder and faster; we're taught that busy is good; that faster is stronger; and that the more that we can do and be and accomplish, the more successful we will be. (All of which is bullshit.)
Part of this, of course, has come as a 'gift' of the technological revolution. With computers and laptops and tablets, we are (we think) capable of productivity beyond anything the Buddha could have comprehended. But here's the rub: We're not built like computers; we don't have the capacity to be 'always on;' and despite vehement beliefs to the contrary, we can't focus on multiple things at the same time. We just can't.
We work in pulses. Most of us are not capable really of more than 5 high-quality hours of work a day on any given objective. We are scientifically incapable of multi-tasking. And we need our sleep.
And, in order to be truly successful, we need to be mindful; we need to slow down and get clear.
Meditation and mindfulness have been shown, though countless peer-reviewed studies, to dramatically improve:
➢ Cognition
➢ Attention
➢ Focus
➢ Memory
➢ Emotional wellness, and
➢ Physical health.
And at the same time, to significantly decrease:
➢ Stress
➢ Symptoms of depression, and
➢ The sense of always being scattered and distracted.
All of which, of course, leads to deeper presence, keener engagement, enhanced mastery, … and yes, greater productivity and profit.
Now, I can teach you all of the intricacies of meditation and mindfulness… I have been a Vipassana practitioner for 20 years… and the benefits have been staggering. But intricacies are unnecessary to get started. All you need to do is step back, step out… and get quiet. A regular 5 to 10 minutes a day can shift up your entire game.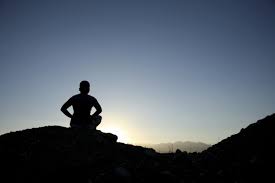 Close your eyes and breath. It's that simple.
So convinced of the compelling science and the significant benefits, Mark Bertolini, Aetna's chief executive, incorporated mindfulness and meditation into his corporate wellness program. And the Seattle Seahawks, to improve the emotional health of their players, brought in Pete Carroll to teach them to get quiet and focus their attention.
The Dalai Lama, of course, had an earlier heads up on all of this.
So whadda think? This is a pretty simple success strategy. If doing less would get you more, wouldn't it be worth a try?