"I need to do some research on the market."
"I need another certification."
"I need to build a website."
"I'm not sure of my target audience."
"I think there's a seminar I should take first."
"I'm still a bit unclear about my message."
"I don't really know what to start writing about."
"I've never spoken to a group before."
"I'm too young."
"I don't have enough experience."
"I think I might be too old."
And on and on and on…
In the course of my coaching, I hear them all. Every single one of them.
The excuses we all create for not beginning, for not starting out, for not taking action. The obstacles we set up; the hurdles we drag out; the hoops we think we need to jump through .
We do this because we are afraid.
We fear that we are not enough. We fear ridicule and condescension. We fear failure. We fear success.
It's easier to stay put, stay safe.
It's easier to pretend. It's easier to be 'busy' doing things that we tell ourselves are 'conditions' for taking action… rather than really taking action.
Rather than risking.
If it looks important and sounds important it surely must be important.
Maybe we can fool the world. But not ourselves.
In staying safe, we're playing small.
And the world so desperately needs those gifts that are yours alone to give: your writing, your speaking, your coaching, your art, your service, your teaching, your product, your ideas.
By taking action, you will find your direction, discover your voice, clarify your vision, define your mission.
By taking action, you will draw to you opportunities and resources and people who will support you.
By taking action, you will discern what you really need to sustain you on your journey.
By taking action, you will learn what works well and what needs to be tweaked.
By taking action, even when you fail from time to time, you will move closer to your goals.
You could stay put (safe) for the next six months… and be nowhere in the direction of your dreams in six month's time. Or you could start out on your desired path, fully fail for half the time… and be well along toward what you truly want.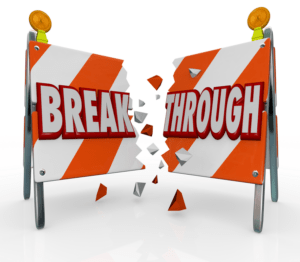 There are enough real obstacles that will rise up along the way.
You need not create any of your own.
Build it, discover it, create it, refine it… Do it on the go.
Don't wait. There's nothing else you need to do.
And there is no time to waste.
Start. Today.
____________________________________________________________________
When you're ready to bust through, email me: walt@walthampton.com