How can it be the New Year already?
How many folks are ready for the New Year?  How many of you have made resolutions for the New Year already? How many haven't even begun to think about New Year's resolutions?
Well you're in the right place. New Years is a great time to reassess and recalibrate. And I have some thoughts about finding freedom and fulfillment in the New Year. Some simple steps.
Here's the problem: 100 million people in this country feel frustrated and bored with their lives. That's a third of the population; one out of every three folks. The fact is, most of us aren't living the lives we once imagined we would live.
We like to think there's time to sort it out, to get it right.  We like to think we'll make time for what's important in life next week, next year, when the kids are out of school, when we retire. We'll get to those things "soon." And the truth is, soon never comes.
A number of years ago, on a beautiful crystal clear late winter day, I was the first EMT in a car that had been hit head on at high speed. The driver was my friend Chris. His life ebbed away in my arms. Whenever folks ask me about my high altitude mountaineering, my ultra running, my blue water sailing, about risk. I think about Chris. Now, we all have a "Chris" in our lives – the sudden death of a loved one, a jarring moment when we are reminded of the brevity of it all. But then we go back to life as usual.
What if life could be different? What if we could have it the way we want it? What if we could – each day – enjoy fun freedom and fulfillment? It's not impossible you know.
Three simple steps for an outrageously successful New Year
So let me share with you THREE simple suggestions as the New Year approaches.
And in order to help remember them during these last remaining crazy weeks of this year, I going to build these thoughts around the acronym EVE as in New Year's Eve, as in the Eve of new beginnings.
Envision the life you want
So the first E stands for Envision.
All of us need a vision of where we are going.
Now, most of us have this vision early in our lives. We think about graduating from high school, going to college, maybe going on to graduate or professional school, getting a job, finding a partner or spouse, and finding a place to live.
And then, all of a sudden we're whacked upside the head by this thing some call reality. Every day, waking up, having breakfast, going off to work, coming home, watching TV, and falling into bed at the end of the day, only to wake up and do it all over again the next day. Soon we're starting to feel like the guy in that old donut commercial or an extra in Bill Murray's Ground Hog Day: the same thing over and over and over again.
And we ask: is that all there is? And it is – unless we have a vision of something more.
So the first task is to get clear on what you want.
We can't hit a target we cannot see.  So we need a target and we have to see the target.
And it can't be something vague like "I want to lose weight." Or, "I want to get fit." It needs to be clear and definite. And it needs a really good compelling reason why you want it. For example, "I want to lose 20 lbs. so I can fit into that tux or that dress for my daughters wedding on June 15:" "I want to start a running program so that I can do my first 5k on September 1."
Maybe you've always wanted to start your masters or take up painting or write a book or maybe you want a new career. Maybe you've always dreamed of being a dancer.
Now's the time to reclaim your dreams.  Envision your life just the way you want it.
Life what you value most
The V is for Values.
Our lives are much sweeter when we know what we value.
Here's an exercise for you to try: pull out a piece of paper and on the left hand side, write the top five things you value; on the right hand side, write the top five things you spend your time on.
Now in the perfect world, there will be a one to one match. But most of us won't find that.
Here's the scoop. You can't say you value family if you spend 80 hours a week in the office; you can't say you value health and fitness if you never go to the gym.  You spend your time on what you value. And if that's not true, then there are some adjustments that need to be made.
Life is much simpler when we are living out what we value. Decisions are easier. We're less stressed.
Let me give you an example.  I value health and fitness right up at the top of my list. If I'm invited out to lunch or asked to schedule a business meeting on a day that I'm going to the gym to do weights, there's no wrestling with the decision for me. No confusion. I value going to the gym over a lunch appointment.
When we get clear on what we value most, it's much easier to draw boundaries in our lives; it's much easier to say no to what's not working; and yes to what's working.
Engage with clear decisive action
The E is for Engage.
Get going. Take action.
Can you believe how fast this year has slipped by?
We think that to get to the lives we want, we need to shift universes, make massive changes, move, quit our jobs, leave our relationships.
The truth is that small consistent steps over time lead to magnificent results.
Think about one of those old hand pumps at a campground. You start pumping on the handle slowly and nothing happens; you keep pumping and still nothing happens; you pump some more and a small trickle of water may come out. Here's the rub, a lot of folks stop there. There's just a small trickle; it's not worth the effort.  And, of course, if you stop, you've lost the prime; you've lost the benefit of all your efforts. BUT, if you just keep pumping a little longer, a huge torrent of water flows.
And so it is in taking steps toward the lives we want, toward our vision, toward our dream.
People ask me how I ran my 50-mile ultra marathon. I was never a distance runner – I took up distance running 3 years ago. When I think about running 50 miles, even as I write this today, it is nearly incomprehensible to me. How do you run 50 miles? One step, one mile at a time.
I worked on Journeys for just an hour a day… for a year. Small consistent steps over time… .
Rock this New Year
The message of Journeys: Live your dreams, live the life you want to live, live passionately, intentionally, joyfully. Before the clock runs out.
So as the EVE of the New Year approaches, get busy: Envision the life of your dreams; live what you Value most; and start out, Engage.  See what happens. The New Year is gonna rock.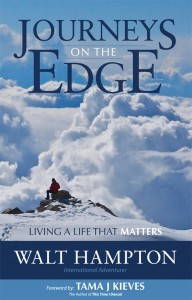 Get your signed copy of Journeys on the Edge: Living a Life That Matters. Click HERE!