These are the questions I always ask at the beginning of a coaching session:
What's worked well this past week? Where have you found the traction? Where have you seen the momentum? What have been your wins?
I want to know what's good.
None of us lack for challenges. No one escapes difficulty. It's easy to focus on what's not working. (And oftentimes, my coaching clients are pretty eager to dive into this stuff!)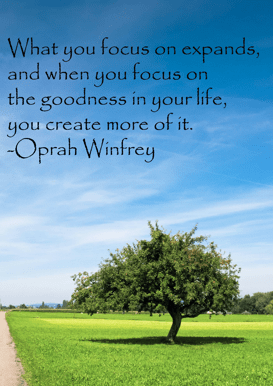 But what you focus on expands.
When you focus on what's not working, more of that shows up. When you focus on what's good, more of what's good appears.
So right out of the gate, I want to know what's working well.
And interestingly enough, all sorts of wondrous things begin to flow from that place of positivity; things that likely wouldn't have even come to light had we begun with a focus on the problems ("challenges" we like to say in coaching!). New ideas, novel strategies, unique perspectives.
Unlike driving race cars at high speeds on desert courses, this focus on what's working well is something you can actually try at home. Here are two practices that will change everything for you:
1. Every day, when your eyes pop open, make this your first question of the day: "What wonderful opportunities will come my way today?"
When you're looking for opportunities, you'll be amazed at how many you see! (Think about the last time you were considering the purchase of a particular model of car: you saw them everywhere! Opportunities are like that!)
2. At the end of the day, right before you go to sleep, write down (yes, write it down because the writing process cements it) three things you're grateful for, or three things you appreciate about the day, or three things that went well. Just three things. (They might be small or large, things that you appreciated yesterday, or everyday. Doesn't matter.)
In our culture of weariness and overwhelm, where it's common to complain, it's way too easy to get caught in a cycle of negativity. Break the cycle. Focus on the good. And good beyond measure will flow to you.