Who are you without the striving? Who are you when you're not accomplishing?
Who are you when you're not busy?
Many of my executive coaching clients feel anxious and untethered if they're not in the thick of it, if they're not juggling a multiplicity of projects, if they're not moving at the speed of light. Their coach too. Birds of a feather and all of that.
One of my very favorite books is The One Thing: The Surprising Truth Behind Extraordinary Results by Gary Keller. Gary postulates that Pareto – the dude who came up with the 80/20 rule – that idea that 20% of our efforts lead to 80% of our outcomes – was overly generous. Gary suggests that, in most circumstances, there is just One Thing that matters.
The question that he recommends for consideration is this: "What's the ONE Thing you can do such that by doing it everything else will be easier or unnecessary?"
I came back to my Hillside in Ireland after two weeks in the States. Nine cities. Two transatlantic flights. My body and my mind were buzzing. I was depleted, exhausted, fried. Yet, I had dozens of things that needed and wanted my attention; people that I needed to connect with; and events that I had to prepare for.
I got out my journal and starting writing frantically: What's the one thing? What is the one thing? For god's sake, what is the one thing?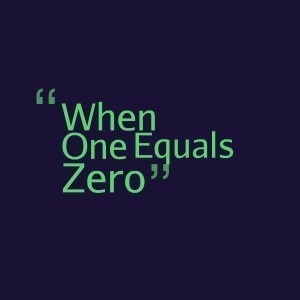 I couldn't focus. My mind swirled.
And, then, almost as if I were on a Ouija board, I found myself writing: "The one thing is no thing."
I needed to rest; to recover; to sleep; to be. To do nothing.
Stephen Covey calls it sharpening the saw, "preserving and enhancing the greatest asset you have – you."
The one "habit" that is most challenging to "do" for achievers.
But sometimes 1 = 0.