A lot of entrepreneurs and business professionals live in a constant state of overwhelm.
Sure, there are lot's of things that seem to require our time and resources in business: branding and marketing and websites and list building and lead generating and marketing and sales and fulfillment and service and bookkeeping and record keeping and…..
There are lots of things that draw our attention too: the latest landing page design, the new webinar platform, that fancy CRM.
Of course, the Internet marketers don't want us to overlook them: that one thing that will make you money; the 6-week program that will transform your business; the 3-secrets to marketing magic; that certification that you surely shouldn't go without.
And in the midst of all of this noise and confusion, we forget: business is about relationships. About creating, sustaining and nurturing relationships. That's it. That's all there is.
All things being equal, we do business with people we know, like and trust. And guess what? All things being unequal, we do business with people we know like and trust.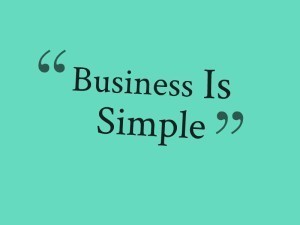 It's about credibility and likability.
Think for a moment about how you yourself do business when you need a professional or service provider you can rely on. You turn to someone you know, like and trust. And if you don't know someone that fits that bill, you turn to a colleague or friend for a referral.
Business may seem complicated. But it's not. It's about relationships. Start there. Keep your focus there. And everything else will fall into place.
____________________________________________________
I teach the fastest, easiest, most reliable system for getting more clients and customers than you can handle, even if you hate marketing and selling. Using this system, 90% of entrepreneurs and professionals see a 40% increase in revenues in the first year. Email me and we'll talk: walt@walthampton.com