Success is not a destination. It's not a place.
Success is a state of mind; it is a way of being in the world.
So many entrepreneurs and business professionals get frustrated because they feel as if they're never "done." There's some product that needs to be developed, some program that's running behind, some project that needs to be planned, some staff person that needs to be hired (or fired).
I have some bad news for you: You're never done. There will always more to do. There will always be problems to solve. There will always be challenges to face. There will always be obstacles to overcome. There will always be a crisis, a glitch in a system, a crack in the infrastructure, a client or customer who needs special care.
But, I have some really good news to share with you: You're never done! Every day is a new day, a new opportunity to create, a new opportunity to serve, and new opportunity to share your unique gifts and talents with the world. Every day you get to iterate anew, to re-imagine how these things that are your business and your life can shine brighter still.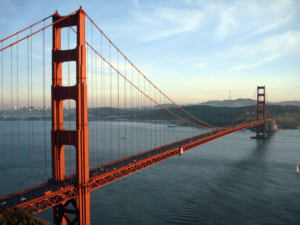 In the movie, Best Exotic Marigold Hotel, Sonny says: "Everything will be all right in the end… if it's not all right then it's not yet the end."
To that, I respond with gratitude: "Thank you. I get the gift of a new day, a new week; I get the gift of being able to continue this great work."
I rejoice that it's not done.
Did you know that they paint the Golden Gate Bridge every day? Every day. Because when they come to the end, it's time to start over. From the beginning. Never "done."
The job of an entrepreneur and business professional is to show up every single day to solve problems and be in service. To do the work. Every. Single. Day.
It's always a work in process.
The powerful poem, Ithaca, by Constantine Cavafy begins: "When you start on your journey to Ithaca, hope that the road is long, full of adventure, full of knowledge."
I pray that your journey is long. That you are never done.
_____________________________________________________________________
If you're feeling challenged by the road, let's connect. Email me: walt@walthampton.com